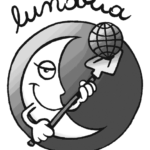 Activities Report 2017
The be acquainted with our last syntetic reports:
Download the Activity Report 2017
Download the Syntetic Report 2017
Dowload the Smart Social Budget 2017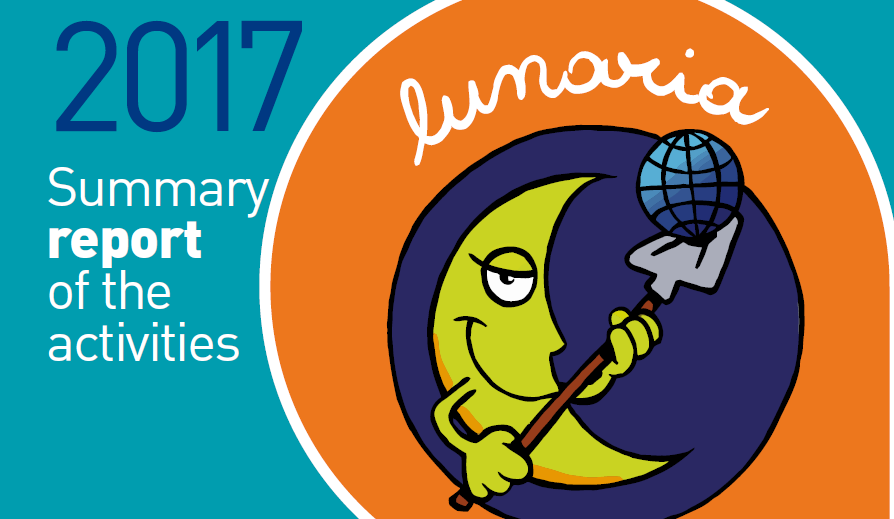 ---
Lunaria, a world on the move
Lunaria is, according to the current Italian legislation, an Association for Social Promotion. It was created in 1992, and since then it is a non governmental body, autonomous from religious and political affiliations and not-profit. Our activities focus on research and action research, training and communication on several social issues such as fair economy, the development of third sector, the study of migration flows, of globalisation the trends and the links between democracy and participation and the importance of informal and non formal education through the promotion of international voluntary service activities. We test new forms of active citizenship and non-violent social change inspired by the principles of justice, solidarity, democracy and, nationally and internationally, the respect of human rights for all.
International Voluntary Service
Every year, Lunaria sends around 500 Italian volunteers to international voluntary service short-term initiatives abroad and facilitates the hosting of as many foreign volunteers in its initiatives carried out in co-operation with local partners in Italy. This is possible thanks to the co-operation with several associations belonging to the umbrella structure of the Alliance of the European Voluntary Service Organisations, of which Lunaria is member. This network gathers more than 50 bodies that promote international voluntary service world-wide. On the Italian side Lunaria co-operates with several local governments and socially-oriented associations willing to include a short-term project of voluntary service with international volunteers in their activities. We are engaged in the promotion of long and medium-term voluntary service such as the EU's European Voluntary Service for young people and the promotion of individual and collective projects for adults and senior volunteers, for which we have awarded the 2007 European Commission's Grundtvig's best European project.
Youth Policies and Non-formal Education
We promote youth training and initiatives at local, national and European level involving every year hundreds of young citizens and youth workers.
Migrations
Since 1996, Lunaria has been promoting research on migration flows, information and campaigns to promote the rights of migrant citizens and actions to fight racism and xenophobia. Our campaigns mainly focus on the acknowledgement of active and passive voting right for foreigners and the safeguarding of their civil and social rights. We advocate decision-making on permanence and residence permits to the civil structures, the introduction of ordinary procedures for the regularisation of foreign citizens present in Italy and the closure of the Centres of Identification and Expulsion, which have been created in recent years in Italy.
Alternative Economy and the third sector
Since 1995, Lunaria has been fostering the research on the development of the third sector and the a social alternative economy through research, training and information in co-operation with universities, research institutes and civil society associations. We aim at supporting smaller grassroots level NGOs organisations, their autonomy and innovation potential to empower their efficiency and project capacity in order to endorse their expertise in responding to new collective needs and widen the guarantee of active citizenship rights.
Sbilanciamoci!
Since the year 2000, Lunaria has been co-ordinating the campaign Sbilanciamoci! which brings together 39 major Italian non-profit , peace, human rights, environment, fair trade, ethical finance organisations, www.sbilanciamoci.org. The campaign publishes yearly reports, meets policy makers, organises conferences to promote a different use of public resources and new role of public actors in the economy. It analyses and reviews the choices of the national Government when composing the state budget and put forth, in yearly reports, amendment proposals for MPs from the point of view and the areas of interest of the campaign's member civil society NGOs. During ten years of activity, the campaign elaborated research tools, critical analysis and proposal that are the essential part of its activity of information, politic pressure and mobilisation and it has published 20 reports of national diffusion (10 on Italy's State Budget; 8 on QUARS, the regional index on alternative quality of life indicators elaborated by Sbilanciamoci!; 1 on the war in Iraq, 4 on development co-operation, 2 on military expenditure), has organised over 20 national conferences and conventions, has promoted 256 local initiatives, such as seminars or debates, has collected more than 30,000 signatures sustaining the state budget alternative proposals; moved 57 amendments to through the MPs supporting the campaign.
We are located in:
via Buonarroti 39, 00185 Roma.
Tel.06.8841880 Fax: 06.8841859
e-mail: lunaria@lunaria.org