I nostri amici di YOUTH FOR SMILE, cercano volontari/e da coinvolgere in un progetto EVS a Bauska in Lettonia per un periodo di 12 mesi da Luglio 2017 a Giugno 2018.
YOUTH FOR SMILE INFO
Youth association Jaunatne smaidam/Youth for Smile is non-profit non-political youth organization established in 2005. Our organization's mission says that we are strong and value-based children and youth non-governmental organization that in achieving its targeted goals, objectives and basic principles, act as impetus for the growth of society and the basic principles of civil society strengthening. Our main aims are uniting children's and youth to promote their participation in non-formal education, in order to develop far and wide skills and abilities active take part within social processes in local, national and international level.
All our activities are close with our values: fairness and equality; mutual understanding and tolerance; active and healthy way of living; development of personality; understanding and creative atmosphere; be friend of environment.
Our target group are children and youth in Bauska, Iecava, Rundāle and Vecumnieki municipalities. Within our strategy, we point out five directions of our activities. 1. DEVELOPMENT OF ASSOCIATION. Association's development vision is based on three core elements – members of the organization's, the image of organization and professional capacity. Our members are children and youth, and youth work professionals. 2. YOUTH POLICY. In collaboration with national youth non-governmental organizations and institutions responsible for youth, we want to encourage a stronger role of youth work in the region. It has continued to work in close cooperation with local governments, educational institutions, non-governmental organizations and young people. 3. PARTICIPATION. Young people are the base for a local community development. Enhancing participation will be based on a number of key areas – social inclusion, creativity, cultural heritage identification, entrepreneurial development, and volunteering, local and international camps. 4. INFORMATION. One of the priorities is to promote the awareness of young people. 5. INITIATIVES. We are working with scouting methods. We use as well outdoor education and adventure pedagogic methods in our regular activities. We are working on establishing support centre for youth and outdoor education centre.
More about Jaunatne smaidam/Youth for Smile:
http://www.jaunatnesmaidam.lv/
https://www.facebook.com/youth4smile/
https://www.instagram.com/youth4smile/
https://www.youtube.com/user/youth4smile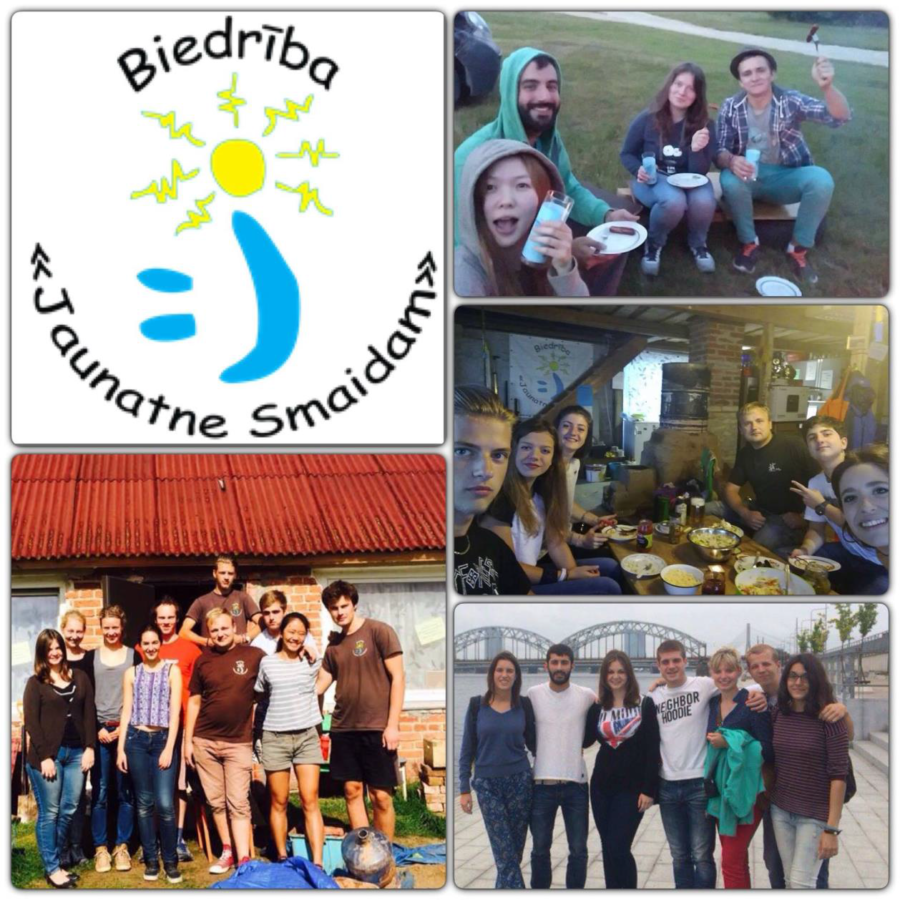 PROJECT ENVIRONMENT
Project activities mainly will be organised in Bauska, Iecava, Rundale and Vecumnieki municipalities, who are situates in the Semigallia lowland in Central Latvia, thus the territory does not have pronounced relief forms. The landscape is shaped by the shallow river valleys of the Iecava, Memele, Musa and Lielupe rivers creating attractive landscape not typical for
the Semigallia lowland. There are eight specially protected NATURA 2000 territories of the European Union, several secular trees and manor parks with national and local significance forming bosky islands within the agricultural landscapes. The territory is notable not only for the barely untouched nature, presence of animal and plant species and biotopes with European significance and the cultural and historical heritage, but also with a unique geological (active waterfront) process. This is one of the oldest inhabited territories in Latvia and has been relatively densely inhabited throughout all periods of history (from the 2nd half of the 9th millenary till nowadays), thus the territory is dominated by cultural landscape with outstanding and at some parts also unique stratifications and dense disposition of cultural monuments.
In Vecumnieki municipality is located as well our organisation office. Vecumnieki municipality is counting around 9500 inhabitants and it is a peaceful place with a lot of cultural and sportive activities.
More information on the below links:
http://www.tourism.bauska.lv/en
http://www.latvia.travel/en
ROLE AND TASKS OF THE VOLUNTEER
Objectives of the proposed EVS project:
To involve a European volunteer in the promotion of international voluntary service as a practice of active citizenship, intercultural education and personal and social growth in the local community;
To give the volunteer the chance of active participation in the implementation and development of a specific project, which constitutes an opportunity of individual development.
Volunteer will be involved in the following activities:
1. Taking part on the preparation and realization of our activities which are mostly based on organizing leisure time activities for young people – trainings, outdoor activities, and daily youth centre activities etc.
2. Becoming the co-leader on the workcamps in Latvia.
3. Promoting EVS and international voluntary work for youth.
4. Administrative work in office (public and international relations).
The detailed activities will be defined both by the volunteer and Jaunatne smaidam / Youth for Smile staff, according to the volunteer's skills and interests.
PROFILE OF VOLUNTEER
Who are we looking for? We do not have any specific criteria for our volunteers. However, the project is focused on working with youth. We would be interested to host the volunteer with some communication skills and interests in topic we are working with – volunteering, participation, leisure time of youth, information, workcamps etc. It would be helpful if the volunteer is communicative, open minded, creative, flexible, independent and would be motivated in working with youth and for youth. We would be happy if the volunteer will be interested in Latvia, its people and culture and wish to learn Latvian language.
PRACTICAL CONDITIONS
Activity period: From July 1st, 2017 to June 30th, 2018 (12 months).
Working Hours: The volunteer will work approx. 36 hours per week
Working and living conditions: Accommodation will be provided. The volunteer will be
accommodated in the rented flat. She/he will have her/his own room and she/he will
have shared bathroom/kitchen with one another volunteer. Internet access will be also available. In addition the volunteer will get pocket money (80€ per month) and 5.50€ a day for the food, following EVS funding rules.
The volunteer will be individually followed by a dedicated mentor.
Per candidarti invia l'application a volunteer@jaunatnesmaidam.lv e volo@dev.lunaria.org entro il 14 gennaio 2017.
Ai partecipanti selezionati sarà richiesto di iscriversi a Lunaria.