10 mesi a Parigi da volontari in Servizio Civile francese per supportare il lavoro di una ONG
I nostri amici dell'associazione francese, Solidarites Jeunesses , cercano 1 volontario/a internazionale da coinvolgere nel Servizio Civile francese.
Il volontario/a sarà coinvolto nell'attività dell'associazione nella sede centrale di Parigi per un progetto di dieci mesi a partire da Ottobre 2016.
Association
Solidarités Jeunesses who is a french youth, non-formal education and community development association. It organises short and long-term international workcamps, actions of social integration, training activities, international solidarity actions and runs small community centres in rural environments.
Through these actions Solidarités Jeunesses aims to promote:
– The voluntary participation of all, particularly young people and those in socially disadvantaged situations, in local, national and international life.
– Local development that takes into concern the needs of the ind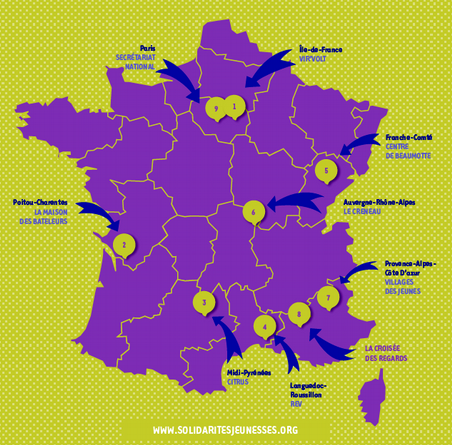 ividual, the environment and the cultural heritage.
– The breaking down of barriers between generations, cultures and nations.
– A concrete construction of peace through intercultural exchanges and reciprocity.
Solidarités Jeunesses has a national office in Paris and 8 regional associations.
They bring together people – young and old, local representatives, social workers – who want to put in common their aspirations for a harmonious development of their region and who would like to find, within a national and international movement, an opening, a richness, exchanges, and reflections.
Solidarités Jeunesses is cooperating internationally with volunteering networks : Coordinating Commitee for International Voluntary Service and the Alliance of European Voluntary Service Organisations.
Profile of the volunteer
– passionate by graphic design, photo and/or film-making
– able to work in French and English
– able to work independently
– able to respect, develop and work in team spirit
– keen on youth work, international & intercultural learning
Activities
You will work in collaboration with the different sectors in the National office and with the
communication's Officer of Solidarités Jeunesses in order to :
 Contribute to the promotion and visibility of Solidarités Jeunesses' activities through digital
communication and graphic design
 Create promotional supports in different formats printed and digital (leaflets, posters, flyers,
banners, videos, etc.) for the organisation's activities and projects.
 Manage the social networks (Post updates on the Facebook Page : more than 9000 Likes )
 Participate in the daily life of the office
Conditions
Age:18-25
Allowance : 577,08 € / month
Accommodation in the Volunteer's House in Paris
Duration : from 1st of October 2016 – for 10 months – 35hours/week
Scarica la descrizione con tutte le informazioni!
Come candidarsi al Servizio Civile francese?
Per candidarti al Servizio Civile invia CV+lettera motivazionale (in inglese o francese), specificando il nome del progetto nell'oggetto della e-mai, a LTV@solidaritesjeunesses.org e volo@lunaria.org il prima possibile
Ai partecipanti selezionati sarà richiesto di iscriversi a Lunaria.