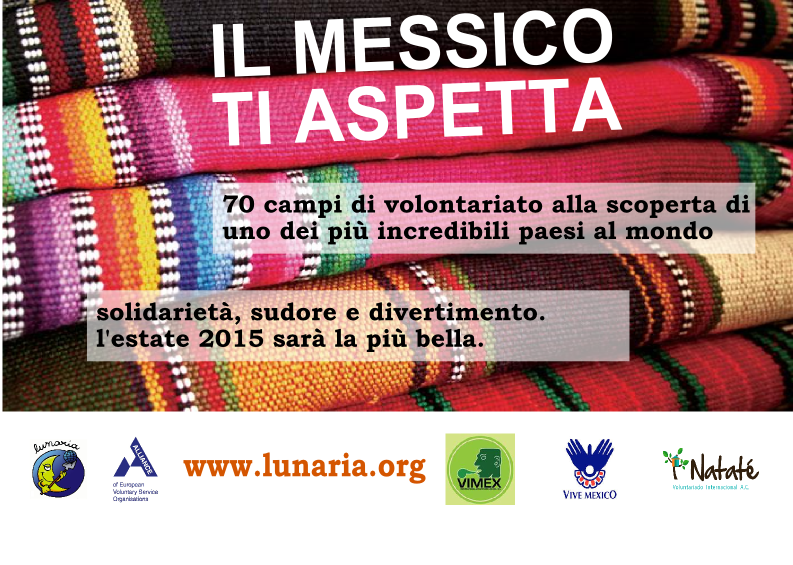 I nostri partners messicani, VIMEX,VIVE Mexico e Natate, organizzano tantissimi progetti di vari tipi in cui è possibile lavorare in diversi ambiti.
Partecipare ad un progetto di volontariato in Messico ti permetterà anche di scoprire il fascino di un Paese ricchissimo di cultura e tradizioni e di immergerti completamente nella sua vita dinamica e accogliente.
Se ami le tradizioni e vuoi conoscere le usanze dei piccoli villaggi ……
A-VIMEX15/06 Artisanal Bread and Peaches Tradition Zacualpan 01.08 – 15.08 è il progetto che fa per te, i volontari lavoreranno all'organizzazione del festival del pane del piccolo villaggio di Zacualpan e insieme alla popolazione locale cucineranno il pane utilizzando le antiche tecniche di lievitazione.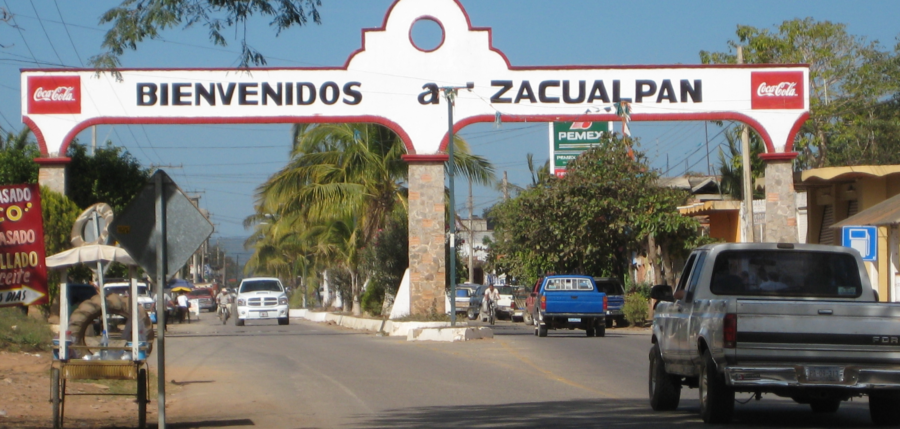 Se ami gli animali e la protezione dell'ambiente avrai invece la possibilità di lavorare sui progetti per la protezione e conservazione delle tartarughe marine…A-VIMEX15/10 Turtles Ixtapa-Zihuatanejo, Guerrero 01.09-15.09 o VIVE10.15 Protecting Marine Turtles Guayabitos I Rincón de Guayabitos
Se ami l'arte e la musica ….
VIVE05.15 United By Arts 08/07-21/07 è il progetto ideale, i volontari internazionali avranno il compito di incoraggiare la partecipazione dei giovani locali alle attività del "United by Arts" Festival della piccola città di La Piedad coinvolgendoli in laboratori artistici, concerti ed eventi.
Se ami lavorare con i bambini …NAT-WCMP-15-03 SUMMER CAMP TEOPISCA 11/07-25/07 è il progetto giusto, si lavorerà in un centro estivo per organizzare attività per i bambini.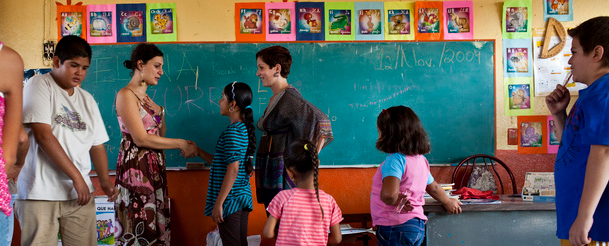 Questi alcuni esempi delle attività che si possono svolgere, ma decine di altri progetti sono disponibili sul nostro data base!
Come scegliere il campo giusto
Come iscriversi ai campi
Le Condizioni di Partecipazione
La nostra rete internazionale
La Carta della Qualità di Alliance
Error: Your Requested widget "ePlacement search " is not in the widget list.
[do_widget_area altraeconomia]
[do_widget_area campi]

[do_widget id="text-25"]
[do_widget id="eplacement_search_widget-8"]
[do_widget id="facebook_fanbox_with_css-5"]

[do_widget_area democrazia]
[do_widget_area footer-1]
[do_widget_area footer-2]
[do_widget_area footer-3]
[do_widget_area footer-4]
[do_widget_area giovani]

[do_widget id="woo_cats-4"]

[do_widget_area homepage]

[do_widget id="text-9"]
[do_widget id="facebook_fanbox_with_css-2"]

[do_widget_area migrazioni]

[do_widget id="woo_tabs-2"]
[do_widget id="text-18"]
[do_widget id="text-29"]
[do_widget id="facebook_fanbox_with_css-6"]

[do_widget_area news]

[do_widget id="facebook_fanbox_with_css-8"]
[do_widget id="text-21"]

[do_widget_area page]

[do_widget id="text-7"]
[do_widget id="facebook_fanbox_with_css-4"]

[do_widget_area sbilanciamoci]

[do_widget id="text-23"]
[do_widget id="text-17"]

[do_widget_area search]

[do_widget id="woo_tabs-3"]
[do_widget id="eplacement_search_widget-9"]

[do_widget_area sidebar-top]

[do_widget id="text-30"]
[do_widget id="eplacement_search_widget-10"]
[do_widget id="woo_cats-3"]

[do_widget_area volontariato]

[do_widget id="text-19"]
[do_widget id="eplacement_search_widget-5"]
[do_widget id="eplacement_search_widget-6"]
[do_widget id="facebook_fanbox_with_css-9"]
[do_widget id="text-26"]
[do_widget id="facebook_fanbox_with_css-7"]

[do_widget_area widgets_for_shortcodes]
[do_widget_area wp_inactive_widgets]

[do_widget id="customdisplayposts-2"]
[do_widget id="text-27"]
[do_widget id="customdisplayposts-4"]
[do_widget id="text-28"]
[do_widget id="customdisplayposts-7"]
[do_widget id="customdisplayposts-8"]
[do_widget id="akismet_widget-2"]
[do_widget id="ngg-mrssw-2"]
[do_widget id="slideshow-2"]
[do_widget id="ngg-images-2"]
[do_widget id="tag-widget-2"]
[do_widget id="tag-widget-4"]
[do_widget id="tag-widget-8"]
[do_widget id="tag-widget-9"]
[do_widget id="tag-widget-10"]
[do_widget id="tag-widget-12"]
[do_widget id="downloads-2"]
[do_widget id="pages-3"]
[do_widget id="pages-4"]
[do_widget id="nav_menu-2"]
[do_widget id="pages-2"]
[do_widget id="archives-2"]
[do_widget id="meta-2"]
[do_widget id="categories-2"]
[do_widget id="recent-posts-2"]
[do_widget id="recent-comments-2"]
[do_widget id="text-10"]
[do_widget id="tag_cloud-2"]